If you want a quick, easy, and portable way of listening to music around the house, then a Bluetooth speaker might just be exactly what you need.
Just charge up its batteries, sync it to your phone or tablet, and you can enjoy your full music or streaming library wherever you please.
And thanks to the increasing amounts of speakers that are now waterproof this now also extends to your bathroom where you can hook up a Bluetooth speaker to enjoy some sweet tunes while you bathe.
There are Bluetooth speakers out there for every use case, from rugged speakers to more style-focussed offerings, and we're not going to lie, it's tough picking a favorite.
The only thing standing in your way is sorting out what's worth your money and what most definitely is not. To help you in your journey, we've compiled a list of the best Bluetooth speakers available right now in terms of value, performance and design.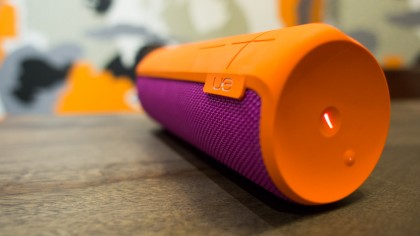 This sequel to the UE Boom nails everything it aims to accomplish. Even better, what used to be the best Bluetooth speaker around for most occasions is now the best one for every occasion, thanks to the waterproofing. The Megaboom also comes recommended if you're looking for more power.
Read the full review: UE Boom 2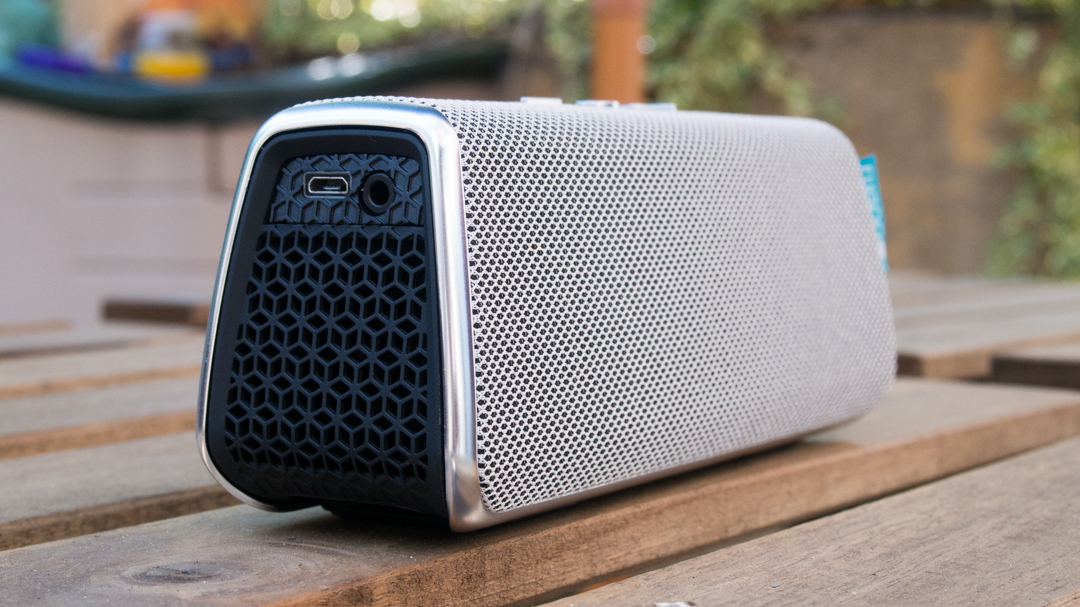 Meet the Bluetooth speaker market's best-kept secret. The Fugoo comes in your choice of jacket style (Style, Tough, or Sport), but no matter which one you choose, this speaker is just as suited for the elements as it is your coffee table.
Despite its small size, this option offers surprisingly good sound performance and, get this, up to 40 hours of battery life when listening at medium volume. I was able to get nearly 20 hours out of it at a high volume.
Read the full review: Fugoo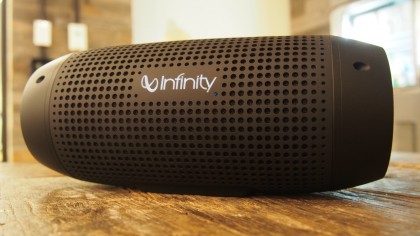 The Harman Infinity One is the most expensive speaker on our list and it's also one of the best values around. The sound performance is best-in-class with amazingly deep bass and rich sound making up the rest of the signature.
Additionally, this speaker houses every modern feature that one could desire in a Bluetooth speaker, like NFC connectivity, USB charging and conference calling. A big part of the price goes to the stunning design put forward by Harman. The entire enclosure is a matte grille that allows for sound to pour out of each side. You're getting your money's worth here.
Editor's Note: This speaker is available in the US only, but the One bears such close resemblance in terms of its design and performance to the also-fantastic JBL Xtreme below that folks around the world won't be left out of the experience.
Read the full review: Harman Infinity One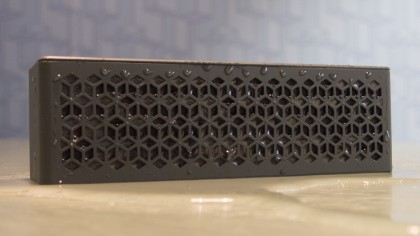 It's not tough these days to find a Bluetooth speaker full of desirable features like full sound, weather-proofing and a good-performing battery. Most of the time, however, the options capable of all those feats won't be cheap. That's where Creative's Muvo Mini comes in to play.
For $59 (£49, AU$69), this speaker handles all these impressive feats, wiping the floor clean of the competition in the process. It'd be enough to recommend it based on its cheap price alone, but it's actually a really good all-around speaker, so there's that too.
Read the full review: Creative Muvo Mini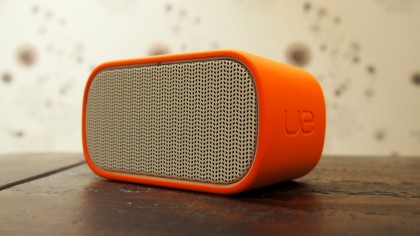 Don't knock the UE Mini Boom for its small size. What it offers out of the box in terms of sound performance and battery life isn't just impressive, it's a steal at $99 (£79, AU$99).
Just as we were, you'll likely be surprised by the capabilities of this speaker through its companion app. Packed into a fun, durable form-factor, this speaker is a fantastic value for music lovers.
(Sadly, this speaker has been discontinued. I'm going to keep it here a little while longer, as it's still pretty easy to find at a good price. At that, I definitely recommend that you pick it up.)
Read the full review: UE Mini Boom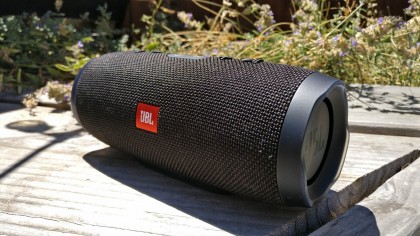 I'll just come out and say it: The JBL Charge 3 is a big speaker. There's no getting around it. At 213 x 87 x 88.5mm, the speaker will take up a fair bit of room in your backpack or purse and at 1.76 pounds, it'll weigh you down as well.
However, what you get for having such a big speaker is 20 hours of battery life and waterproofing. It's IPX7 rated, which means you can submerge the speaker in up to a meter of water for 30 minutes. But while it'll survive a dunk into the pool it's probably best if you don't leave it there for an extended period of time.
As a package, the JBL Charge 3 offers a compelling set of features and excellent sound quality to boot. It punches well above its weight, playing loudly and distortion-free. The Charge line of speakers have been on our shortlist of recommendations for a long time and the latest iteration maintains JBL's dominance in the portable Bluetooth speaker market.
Read the full review: JBL Charge 3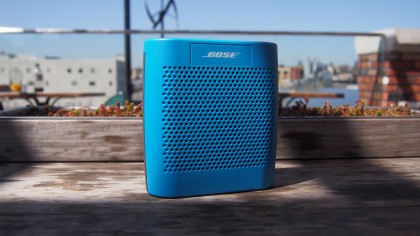 When it comes to Bluetooth speakers, Bose is a major player. But something that's been missing from the company's product line is a relatively affordable option that has the same full-bodied sound crammed into a small form-factor.
With the $130 (£120, AU$180) SoundLink Color, Bose has achieved just that, plus a splash of color. There are a variety of flavors to choose from, but whichever you choose, you'll be treated to stellar sound and battery performance. Bose performance now comes cheap with this portable Bluetooth speaker.
Read the full review: Bose SoundLink Color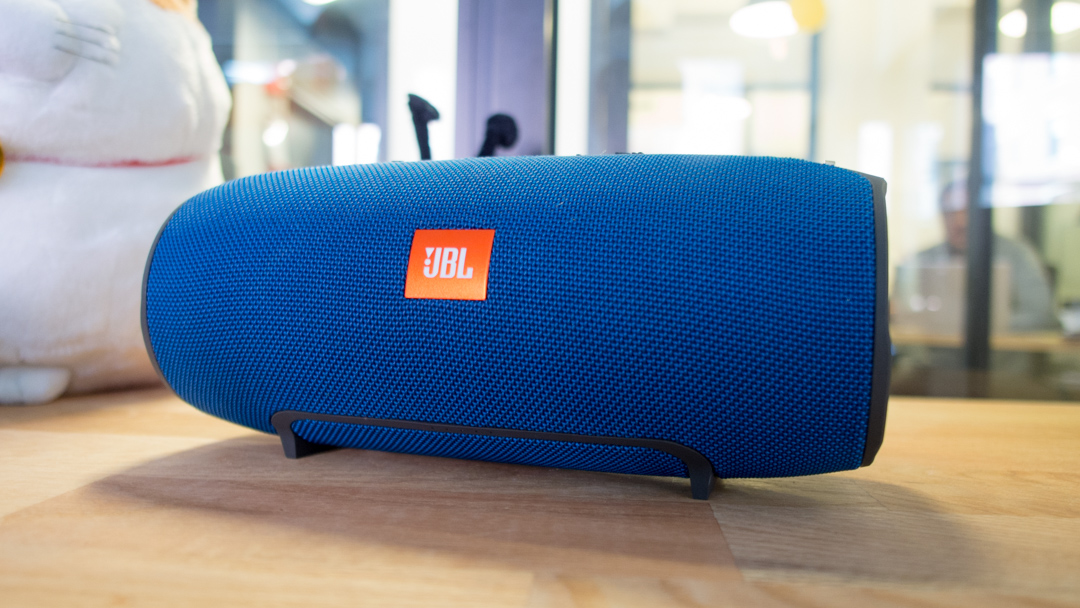 It's impossible not to compare JBL's rough and tough Xtreme to the stellar Infinity One. After all, its parent company, Harman, is responsible for both creations.
The Xtreme might look a whole lot like the One, but it sets itself apart with a rugged build that is forgiving of dings and short falls. Its battery can pump music for a very solid 15 hours, too. It edges out most, if not all, similarly priced competitors in terms of value, but falls short ever so slightly of the One's sound performance.
Read the full review: JBL Xtreme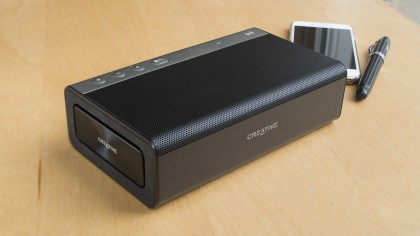 The Creative Sound Blaster Roar 2 is the successor to the much-loved Sound Blaster Roar SR20 and rings it at a pleasing tune of $169/£149, or about AU$235. This speaker is about the size of a hard-cover book and can compliment a bookshelf or a table top nicely.
Touching on features, the built-in internal microphone allows you to make or take calls with ease. The Roar 2 supports a microSD card, which you can use either to record calls onto or listen to stored music from. Something else you don't see often in a Bluetooth speaker is an overdrive button. "Roar" mode cranks the sound performance up a few notches.
Read the full review: Creative Sound Blaster Roar 2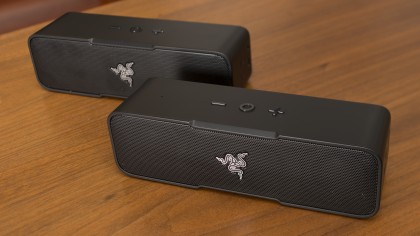 The Razer Leviathan Mini is a lightweight portable Bluetooth speaker that does a lot right in the company's first attempt at sound in a small package. It's a little costly for what it offers, though, but ultimately sounds as good or better than the competition.
As far as performance is concerned, it's significantly better than both the Pill and SoundLink. The audio is far more robust-sounding, and I found the Leviathan Mini to actually outperform Dre's dream speaker in every category, bass included. If you're looking to add a portable Bluetooth speaker to your growing arsenal of Razer audio products, the Razer Leviathan Mini is a well-rounded option that might be a bit more than the competition, but delivers in all the right categories.
Read the full review: Razer Leviathan Mini
We'll update this page as we review more speakers, so stay tuned. Let us know if you have suggestions for us to check out in the comments below.